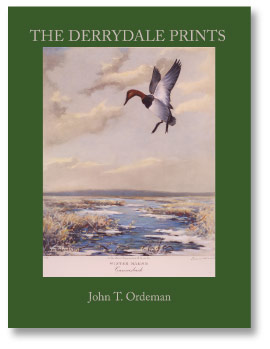 The Derrydale Prints Trade Edition
The Derrydale Prints
Written by noted sporting art authority John T. Ordeman, The Derrydale Prints was released in late 2005. A total of 2,000 books were published, with 300 reserved in a special Deluxe Edition.
Ordeman is the ideal author for such a book. He has already written one book about Derrydale (The Aquatints, Dry points and Etchings of the Derrydale Press), in addition to books on Frank W. Benson, Roland Clark, William Schaldach, George and Belmore Brown.
Published by The Sporting Gallery of Ringwood New Jersey, The Derrydale Prints is a big, 9 x 12-inch book that features nearly a hundred sporting prints, each in superb color. Over its 160 pages, the book contains a complete history of The Derrydale Press. There are detailed descriptions of the pictures, observations and critical commentary, as well as advice on the care, restoration and framing of the prints. It also includes biographies of the artists, a listing of the prints and an Introduction by Sporting Classics Senior Editor Shelly Spindel.
A Regular Edition copy of The Derrydale Prints, hardbound with linen cover and dust jacket, sells for $75. A select number of Deluxe books are available exclusively through The Sporting Gallery. Each is bound in genuine leather and signed and numbered by the author, and boxed in a handsome linen-covered slipcase. These beautifully crafted Deluxe books will sell for $275 each, and are available on a first-come, first-served basis, while they last.
Here are a few samples of the Derrydale Prints you will find in this book, complete with descriptions, observations and commentary (click to enlarge an image):